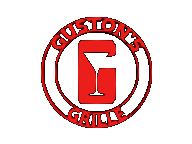 Kentucky Bourbon Barrel Ale
Award winning Kentucky Bourbon Barrel Ale® is a unique sipping beer with the distinctive nose of a well-crafted bourbon. Our Kentucky Ale is aged for up to 6 weeks in freshly decanted bourbon barrels from some of Kentucky's finest distilleries.
Subtle yet familiar flavors of vanilla and oak are imparted to this special ale as it rests in the charred barrels. Pleasantly smooth and robust, Kentucky Bourbon Barrel Ale may also be served as an aperitif or after dinner drink.
This beer has become extremely popular over the few months we have featured it on draft! Wither it's the higher alcohol content or the subtle taste of bourbon it's sure to be your new favorite at Guston's Come try one today!
ABV: 8.2%
16oz $5.25
22oz $7.25