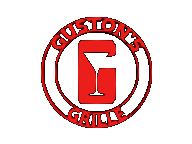 Bronco's Benevolent Foundation
The month of April Guston's Grille has teamed up with Bronco's Benevolent Foundation to help raise money for organ donation and transplant services.
Phillip Bronco Reese was born on January 12th, 2006 to Scott and Joanna Reese. Bronco was born with four congenital heart defects. At this point in his life, his pulmonary artery has become more and more compromised, and there is no other solution than heart transplant. He was placed on the transplant list on November 9th of 2012.
We all see the amazing things in our children, but we have to say, that Bronco is definitely one of a kind. He has an infectious love about him. He remembers everyone's names. He always greets people and when leaving them, reminds them all to "come see him sometime". We are constantly astounded by his sweet attitude and his excitement for this transplant to happen. We invite you to follow his journey along with us. We are anxiously awaiting a miraculous ride…..
To help donate please see the wait staff at Guston'sto fill out a heart 🙂
To donate directly to http://www.gofundme.com/broncoreese