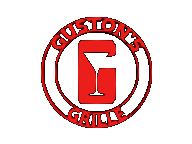 June Featured Drinks
Starting in the month of June Guston's will have three featured drinks specifically picked for the season!
The Watermelon Margarita is a sweet and tangy version of the modern margarita. Using Milagro tequila makes this drink crisp and refreshing with a hint of summer! Absolutely delicious!
The popular Mojito is also on the menu except it has a fruity twist! Wolf-berry Bacardi is used with fresh mint make this drink a sweet minty surprise!
These drinks are not normally on the drink menu so make sure you hurry and try one or all three before they are gone!